One of the most enjoyable responsibilities for the folks here at Kadence Solutions revolves around deploying systems and functions that make life easier for others. Often that involves something like streamlining the backup services in a server farm or deploying a monitoring system to ease he workload of system admins. Whether it's an issue with a server or network deployment or making a VoIP solution easier to user, we love solving problems! Sometimes the problems we solve are a little more rewarding and involve deploying solutions to make life easier for those with special needs. Many of us struggle with different types of ailments from vision and hearing loss to memory issues that can make the simplest of tasks very frustrating. One of our more interesting solutions is a wonderful product designed to handle all three of the aforementioned examples.
For those who suffer from vision, hearing, or memory problems the simple act of dialing a telephone can become very problematic.  Most telephone handsets have small speakers and can be difficult to hear. Many telephones have small buttons that can be difficult to easily make use of. For those who have difficulty remembering telephone numbers and rely on speed dial buttons to reach loved ones, the speed dial buttons are even smaller and more difficult to use. Thankfully there are products available to assist with this problems.
We at Kadence feel this telephone to be brilliantly designed and extraordinarily beneficial for those who need their telephone to be much more user friendly that the norm. The HD-40P Amplified Photo Speaker phone is helping people everywhere by providing improvements to basic functionality that most of us take for granted.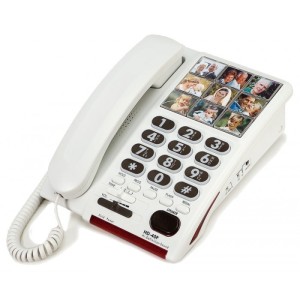 The HD-40P features an amplified speakerphone designed specifically for those with moderate to severe hearing loss. The integrated speaker amplifies incoming sounds by 26 decibels making sounds over 20 times louder than a traditional speaker phone. The high definition digital signal processing eliminates distortion, echo and static so commonly associated with speaker phones. The Selectable Digital Tone Setting allows the audio frequencies to be adjusted to accommodate for the specific ranges affected by the hearing loss of the user. This can significantly improve the users ability to hear words spoken and make telephone conversations intelligible, making staying in touch with loved ones easier and more enjoyable. The handset is, of course, fully hearing aid compatible for when the speaker phone functions aren't desirable. To ensure that no calls get missed a super-loud ringer with a 90 decibel output is standard.
Each of the buttons on the dial pad are large, easy to read, and adorned with braille numbers to assist with making outbound calls. Both the front and side panel have visual ring flashers for those with more severe hearing loss that require a visual indication of an incoming call.
Resolving once and for all the complications associated with tiny little speed dial buttons, the HD-40P includes 9 large programmable buttons. To accommodate users with vision or memory ailments, a photo can be inserted into each button to make staying in touch with friends and family very simple.
The HD-40P is typically powered directly from the phone line and requires no AC adaptor, reducing the number of cords and simplifying connectivity. While the phone works great on a traditional phone line, staff at Kadence Solutions can make the installation of this phone on a Voice Over IP Internet phone system as easy as the phone calls that it simplifies.